Juan Rezzuto plays Haydn piano concerto Hob XVIII:6 in London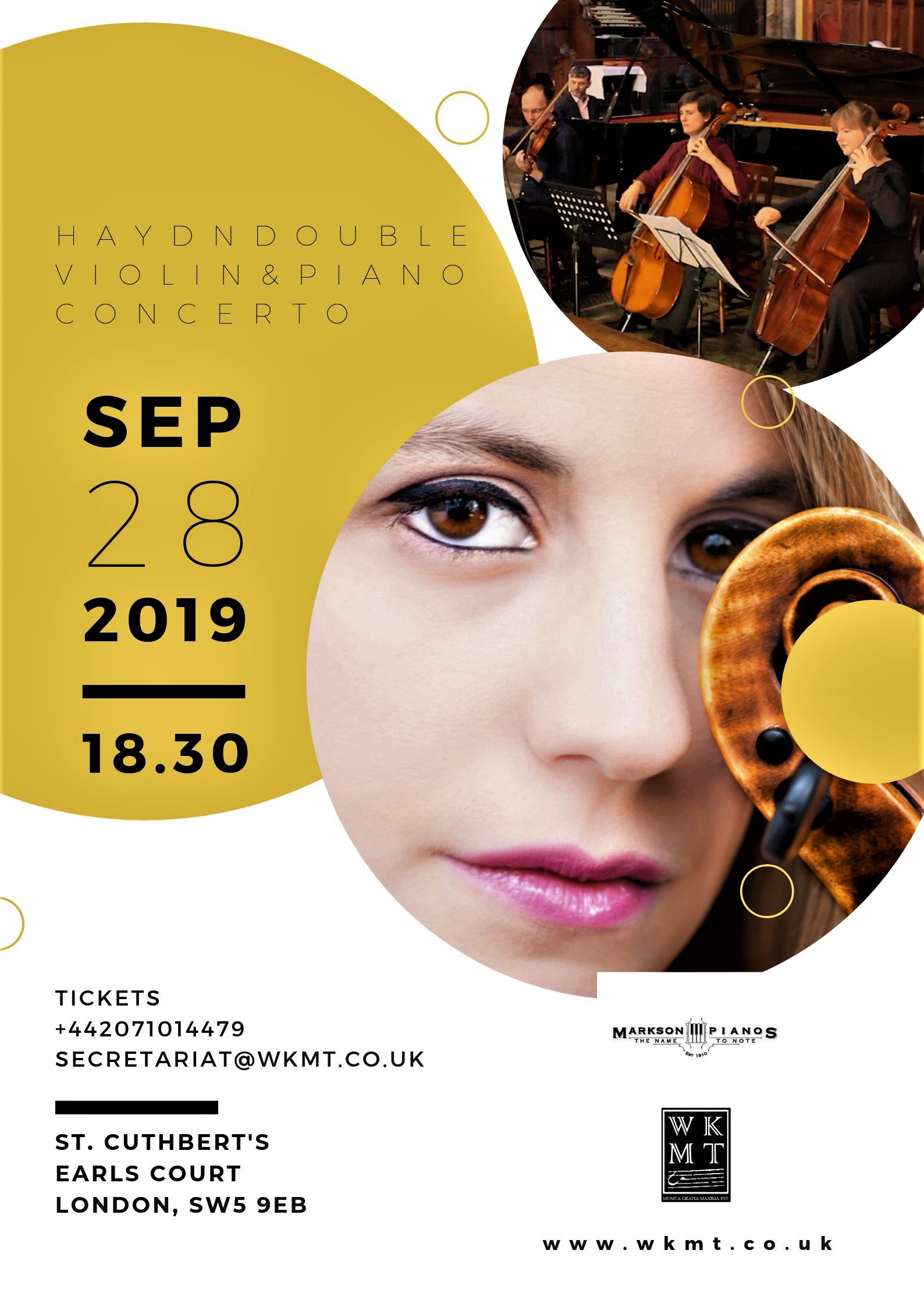 Haydn double piano and violin concerto by WKMT
Have you ever attended a Haydn piano concerto? What if we tell you that WKMT Piano studio has organised the Hob XVIII:6 for violin and piano in London? And going further, what if that concert is played by Juan Rezzuto, who is the specialist in Haydn who is performing every single concert the Maestro Haydn ever composed? Sounds good, isn't it?
Well, that is exactly what we are releasing today. As you might be aware of, WKMT host classical concerts every single month for all their members and people interested in their concerts in London.
On the 28th of September 2019, Saturday, you will have the chance of attending a beautiful concert in St. Cuthbert's church, Earls Court, London. From 18:30 hrs.
Maestro Rezzuto and Paola Delucchi will be playing this famous double piano and violin concerto accompanied by WKMT Ensemble formed by six or seven strings (violins, cellos, a double bass).
Paola Delucchi has performed concerts across Europe (UK, Italy, China, France, Switzerland, Austria, Poland and Germany) as a soloist, chamber musician and orchestral leader. She currently plays the violin by Romeo Antoniazzi (1902). She is a real violin player with plenty of performing dates in London. Check their website for more info.
Juan Rezzuto, well, we all know the Maestro who founded Pianist AID to help other musicians to have their performing opportunities in London. He founded WKMT, one of the most famous piano studios of London, as well as his Haydn project performing and sharing the Scaramuzza piano technique. Actually, this concert takes part in the offer to Paola to organise this concert as well as the Violin Concerto No 1 by Mozart which WKMT will organise by the end of this 2019. We will keep you posted once we have more details.
Both Juan and Paola have gathered to recreate this beautiful piano and violin concerto for all of us, which is a real honour. And better still, accompanied by WKMT Ensemble which is formed by some of our members.
You can check their next classical concerts in London using the link aforementioned. Do not miss this beautiful and inspiring concerto.