Aiming to provide piano students with fantastic opportunities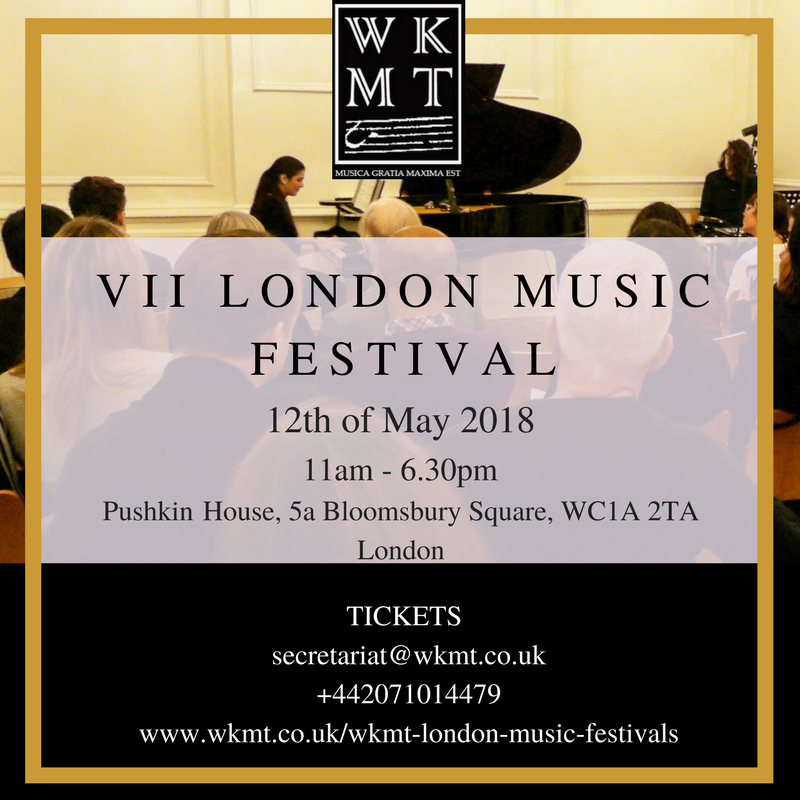 Aiming to provide piano students with fantastic opportunities.
Aiming to provide piano students with fantastic opportunities.
WKMT and pianist aid promoting piano students through performances.
https://www.piano-composer-teacher-london.co.uk/wkmt-london-music-festivals
Pianist AID is happily releasing the VII London Music Festival organised by WKMT Piano lessons London. The new edition comes six months after the previous VI edition, which was a total success. More than 250 guests, 75 performers from 11 am to 6 pm.
This VII Edition is organised for 12th May this 2018, same time and same venue as the last success: Pushkin House, Fitzrovia, London. Such a beautiful and inspiring house hosting again a magnificent Music Festival where students will have the opportunity to perform what they have been studying and parents and friends enjoy a superlative Saturday fully catered with drinks and canapes.
This WKMT Festival take part of our promotional programme for piano students and musicians, in which, with WKMT, we help them to be promoted in London through different performing opportunities in listed venues, all of them recorded professionally. This date is not only for members of WKMT, but they also open an allowance for non-members to enjoy also this chance of show everyone what they can play on stage.
In the previous festival, we provided Katarina Makevic, Croatian pianist, with the opportunity of performing Brahms pieces. Everything carried out smoothly and superb. You can see the video of her interview and performance for WKMT below. Like her, you can also have the chance to perform in the superlative Pushkin House Concert room with its Steinway piano, with a silent audience and professional recording given to you edited. Do not miss the chance and check all the details in the link aforementioned. You can also contact them on 02071014479 and WKMT Admin team will help you with your next performance in London.
Check the videos from the previous WKMT Festival below. Looking forward to promoting you very soon.