A new Baroque opportunity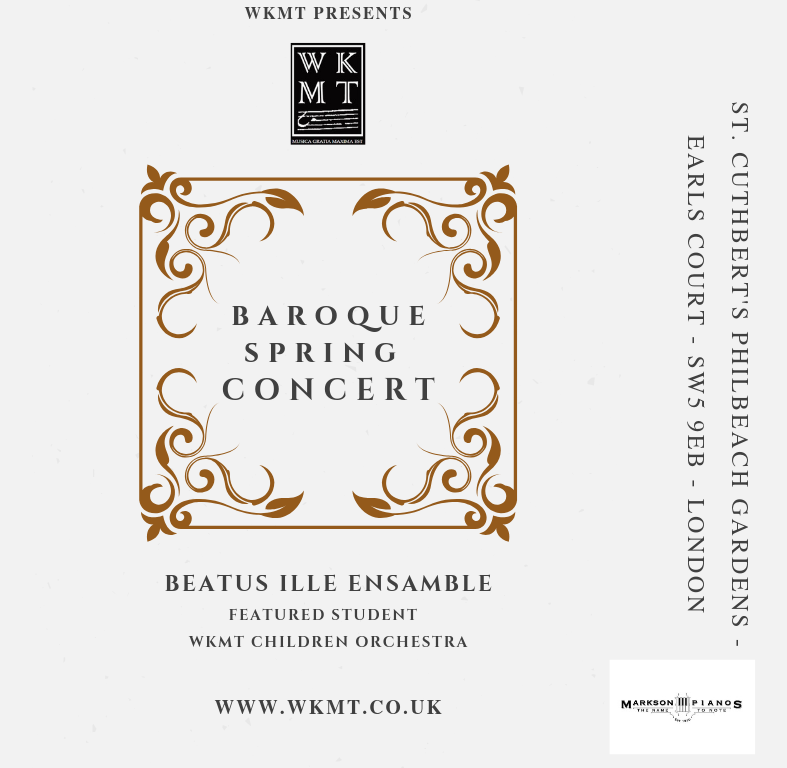 Pianist AID gathered strength with WKMT London Piano Studio to organise a new concert happening on April 27th in London.
Our usual concert venue, St Cuthbert's church, Earls Court is ready to host this new concert in which we gave the opportunity to a new Baroque ensemble called Beatus Ille, formed by two violins and a cello. Specialists of Baroque music will join to our programme designed by a usual performer, Avelino Vazquez, harpsichordist and piano teacher in London for WKMT.
Avelino, who was behind the concert in January this year too, is back with a new programme with pieces of Corelli, Purcell and Handel. Such a Baroque repertoire which will be played by a strings trio and him on the harpsichord.
This time, we have the pleasure of counting with Rachel Cooper, a Soprano based in London who already performed the cello with WKMT Ensemble in its last Haydn piano concerto in London. She is most focused on singing, and especially Baroque music, so they all together make the perfect blend for this particular event.
If you would like to join us on the 27th from 7.00 pm, go to the website mentioned above, and book your tickets asap by calling 02071014479.
Ps. If you are a musician with a repertoire known and you would like to perform it in London in such a venue and with so many concert dates available as we have, do not hesitate to send us your request. Many musicians like you already had their time on stage.