Our Members' students performing in London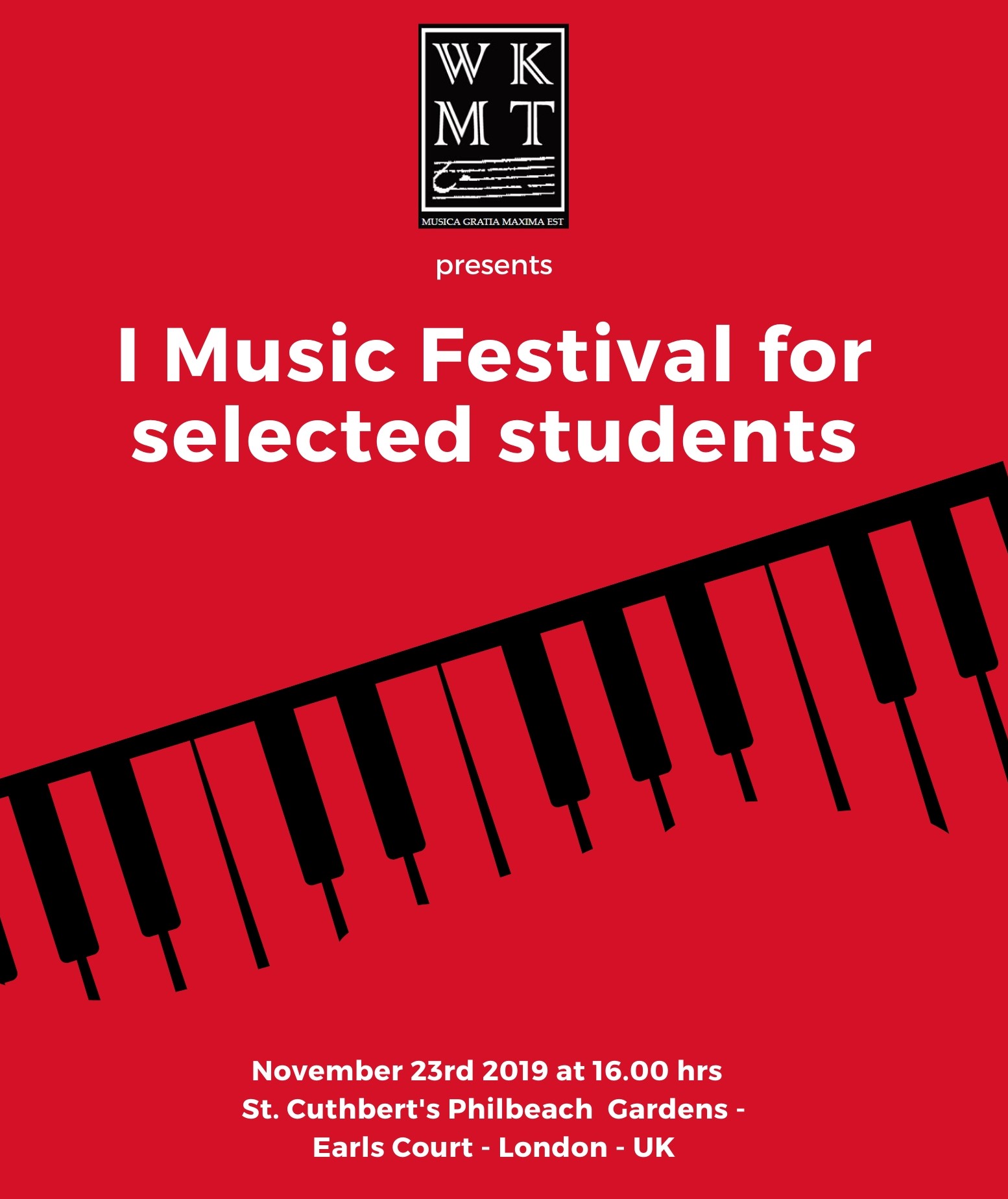 Our Members' students performing in London
Pianist AID releases the new date of the famous piano festivals in London organised the WKMT London piano studio.
On the 23rd of November 2019, from 4:00 pm in St Cuthbert's church, Earls Court. Save the date!
This time, the festival edition X will be a bit different compared to the previous ones. This X Edition will be only for selected students. The studio will select around thirty profiles, from all levels and ages, with different pieces, to show us what they are capable of. That's also why this time will be shorter too, from 4:00 to 9:30 pm. Children and adults passing along performing pieces with their best skills.
The whole process, like always, will be professionally recorded by our Sound Engineer Thomas Rickerby, and our Filming and video in charge of Keith Huckfield. Both have been present and in charge of the usual videos three years ago now. At the bottom of our post, we share with you all some of the videos of the lasts editions.
In our last edition, they got more than a hundred performers with their respective guests. It was such a highly demanded event, for that reason, before the next edition in June 2020, they designed this new festival for a selected group of students, in order to fit the most advanced ones who will be seating at exams this Autumn edition.
They already did a sneak peek of some performances for advanced students this 26th October 2019. Our founder and Director of WKMT, Juan Rezzuto, delivered a beautiful and interesting piano masterclass in London, as well for the most advanced students. In this masterclass, the main point was the piano technique. As you might be aware, Juan Rezzuto inherited the famous Scaramuzza technique thanks to his Maestro Bruno Gelber. For that reason, he is committed to sharing with everyone this famous technique which so many great pianists gave.
Well, following the above, you can now check all the details for this new edition. They will allow a percentage of non-members performers, so if you would like to take part in this, do not hesitate to contact them and book your place.